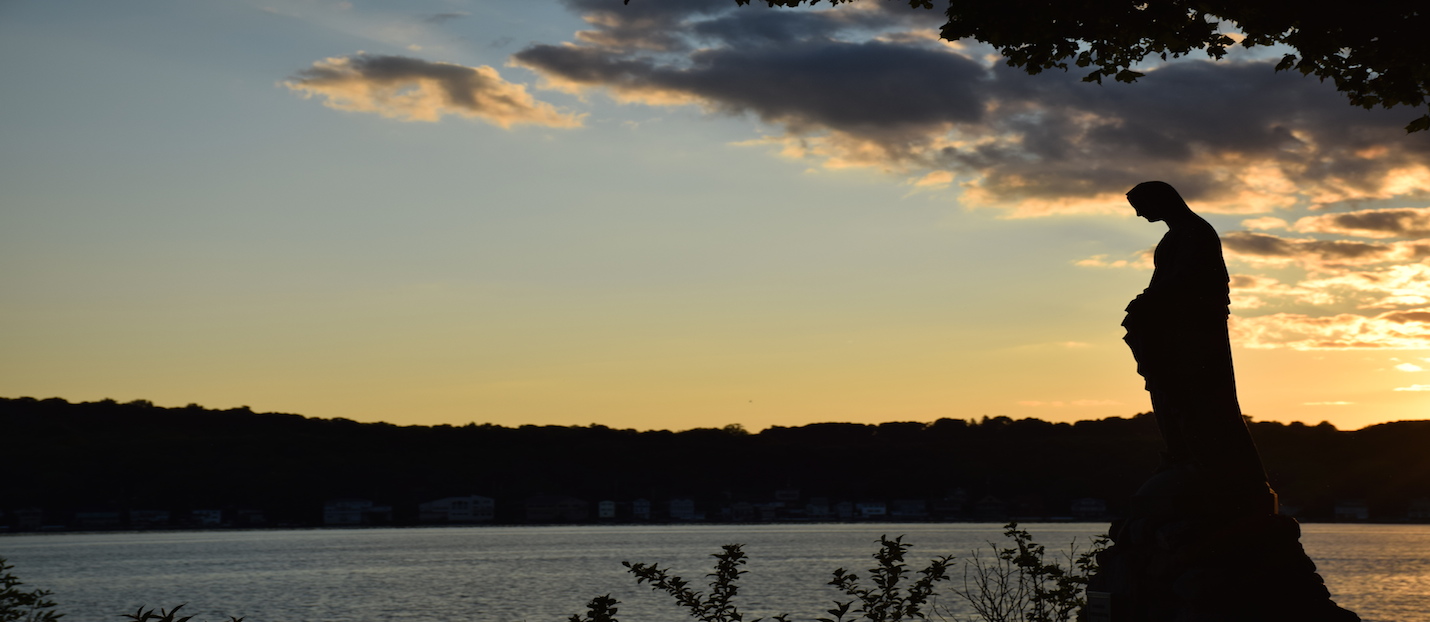 OUR MISSION
The mission of Camp Stella Maris is to create a fun Christ-centered, safe caring environment and experience, fostering continued spiritual, physical and emotional growth for a diverse group of campers of all ages. This is accomplished by promoting acceptance of self and others through the social, spiritual, recreational and educational aspects of the CSM experience. CSM accomplishes this through sound financial management, trained and committed staff and community support. CSM works with community groups and citizens to fund scholarships to ensure opportunities for all to benefit from the CSM experience.
RELIGIOUS AFFILIATION
Camp Stella Maris is a self-governing and self-supporting entity that follows the Catholic faith. Campers attend a kid-friendly Catholic Mass 2 times each week. Our spiritual program teaches values and lessons that can be applied throughout our lives regardless of where each person is in their faith journey.
Camp Stella Maris is non-conversional and campers are not required to be Catholic.
CSM INCLUSIVITY STATEMENT
Camp Stella Maris (CSM) strives to create a place where everyone can feel welcomed, safe, and respected. We know the camp experience can be a rare respite from the outside world where bullying, social media, and the feeling of not fitting in can make growing up so hard, especially for those that seem, or feel, different from everyone else. Diversity in the camp environment benefits everyone and CSM believes everyone should be treated with dignity and feel like they can be themselves. CSM recognizes and honors individual uniqueness by acknowledging human variations to create meaningful opportunities for personal connection that recognize, foster, value, and respect our similarities and differences.
In alignment with our values, vision and mission, Camp Stella Maris welcomes all persons, regardless of race, color, sex, gender identity and expression, sexual orientation, disability (assuming the disability permits safe participation in the CSM program), faith or religion, cultural observance, national or ethnic origin, family status, appearance, body type/size, educational background, and any other category people use to define themselves or others.
DISCRIMINATION/BULLYING POLICY
Inclusion is a journey, not a destination. The only true way to create a fully open and supportive community is to be committed to values of equality and respect all the time, every day. We encourage our campers to develop self-confidence, embrace their creativity, explore their surroundings, and create relationships with those that may be different from them. Exploration and identity formation is a normal part of youth development, and we believe it is essential to allow campers to learn more about themselves and others in a safe and affirming environment.
Although summer camp should be a space where people are treated with respect, we know some campers may engage in mistreatment of one another, especially when someone seems different. Our number one priority is, and always will be, the emotional and physical safety of every member of our community. Harassment and other behaviors that create a physically or emotionally unsafe environment will not be tolerated. Any camper involved in such behavior is subject to our three-strike policy. Please note that a camper may be dismissed from camp, without refund, on a first offense if the conduct is considered especially egregious.
CSM EQUITY STATEMENT
Camp Stella Maris thrives on creating an environment where everyone is comfortable bringing their authentic selves to camp. While we are fortunate to have a rich history of being a welcoming community centered around our Catholic faith, we are acutely aware that many families have not had access to camp nor felt included in the camp experience. Therefore, our priority is to increase access to CSM for groups historically underrepresented at camp and to ensure that everyone feels the same sense of belonging. We recognize that our efforts will be ongoing and evolving as we work toward an equitable future.
Past, Present & Future
Founded in 1926 by Seminarians Gerald Lambert and Eugene Hudson, Camp Stella Maris has been a shining star in the lives of hundreds of thousands of children from the surrounding area and beyond.
A Brief History of Camp Stella Maris
1926 – Camp is founded by Lambert and Hudson
1927 – Current Camp property donated by Max Russer
1941 – 1st girls encampment is led by Mary Hannick
1960 – Camp is incorporated
1976 – Camp begins to operate year round
1977 – Camp is given over to lay control by the Diocese.
Camp is accredited by the American Camping Association
Charles M. Bayer Campership Program begun
1982 – Board of Directors formed
1984 – LIT Leader in Training Program begins
1988 – All sessions become co-ed
1991 – Day Camp program begins
1996 – ABLE (Adventure Based Learning Experience) program begins
1999 – Peggy's Café is constructed
2007 – Major renovations completed including construction of the Wegman House.
2019 – Fellion building opens- the new Health Center
2022 – St. Mary Star of the Sea Chapel is completed